How is it that I'm just finding out today about the new show that Logo will be premiering in February, Transamerican Love Story? So exciting!
TLS will be a competitive dating show, with one bachelorette and several male suitors. But this one's a little different (and not in the Tila Tequila way) – the bachelorette is Calpernia Addams,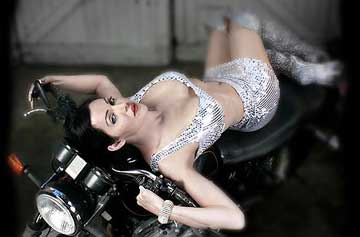 a transgender actor, author and activist.
This premise has been done before (apparently it's impossible to come up with an original idea for tv now) – in 2003, the UK's Sky One aired a show called There's Something About Miriam, in which Mexican model Miriam sought love from a small group of young men. In that show, Miriam did not reveal that she was trans until after she chose the winner of the group, during the show's finale. That didn't go over so well – the winner, 23-year-old Tom Rooke, initially accepted the prize (10,000 GBP and a trip with Miriam), but later rejected the prize and joined the other cast members in a law suit against Sky One and the production team, alleging conspiracy to commit sexual assault, among other things.
Really, who would expect it to go well? The critical response to Miriam's show was negative, mostly targeting how the show was sensationalist and not at all interested in examining cultural responses to transgendered life. In addition to being a trashy ploy for ratings, the premise there is simply outright dangerous: I already talked a little bit about the fear-to-violence reaction in this post, and I think Miriam's show set up a situation that would have been prime for that to occur. Of course I know that there are production and security staff present during the filming, but the possibility of some after-shocks was definitely there. Fortunately, I haven't been able to find anything about any post-show incidents, although I'm sure the lawsuits were traumatic enough.
Fortunately, Logo is going about it in a smarter way – Calpernia Addams is already out, and the bachelors applying for the show know about it. Considering what Addams has already dealt with, I'm hoping she'll really take this opportunity to help create a positive image of transpeople in the eyes of the American public.